The Gargaro Theater
Originally built in 1915 as the St. James School, The Gargaro Theater was rededicated via a Board of Directors gift in 2015 in honor of our Founding Artistic Director Kenneth V. Gargaro. This theatrical venue is an exciting new opportunity for Pittsburgh Musical Theater to explore the use of our new space including edgier, exciting titles for our adult audiences. Pittsburgh Musical Theater is thrilled about these new opportunities, and can't wait to continue entertaining you in our additional new home.
Pittsburgh Musical Theater will perform five times this year in The Gargaro Theater. Beginning with a show that is part of our new "After Hours" series - daring, audacious, gritty, and starting at 10:00pm, continuing through the season with two student Conservatory productions and two professional productions!
The 2018-2019 Season productions in the Gargaro Theater:
Hedwig and the Angry Inch
In the Heights
Chicago
Nunsense The Mega-Musical
Fiddler on the Roof Jr.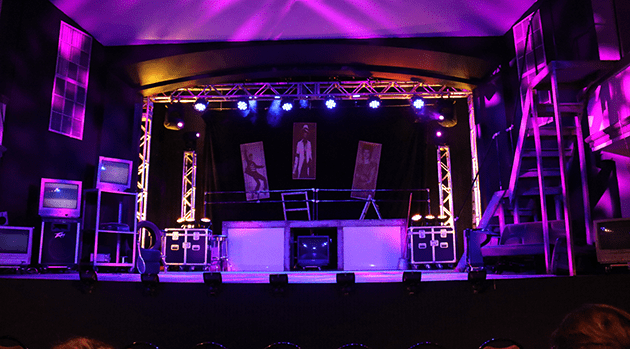 ---
Local Food
---
Directions and Parking
Pittsburgh Musical Theater's Studio is located at 327 South Main Street in Pittsburgh's historical West End, just minutes from Pittsburgh's main arteries.
From Downtown Pittsburgh
Follow I-279 South to the Fort Pitt Bridge.
Exit to the right, just before going into the tunnel, onto Carson Street.
Move into the left lane and follow it up the ramp into the West End Circle(approximately 1/2 mile).
At the West End Circle, follow the signs for Rt. 60 North (Crafton).
Exit the circle onto Rt. 60 North. This is South Main Street.
Pittsburgh Musical Theater is on the left at the 1st traffic light.
The preferred entrance to our parking lot is in the rear. (Left at the light, left at the stop sign)
---
From the South
Follow I-279 North to Rt. 51 North (West End). This is the last exit before the Fort Pitt Tunnels.
After traveling approximately 1 mile on Rt. 51 North, you will arrive at the West End Circle.
At the West End Circle, follow the signs for Rt. 60 North (Crafton).
Exit the circle onto Rt. 60 North. This is South Main Street.
Pittsburgh Musical Theater is on the left at the 1st traffic light.
The preferred entrance to our parking lot is in the rear. (Left at the light, left at the stop sign)
---
---
Where to Park
---